Lunch & Learn & Family Fun -
March 11, 2018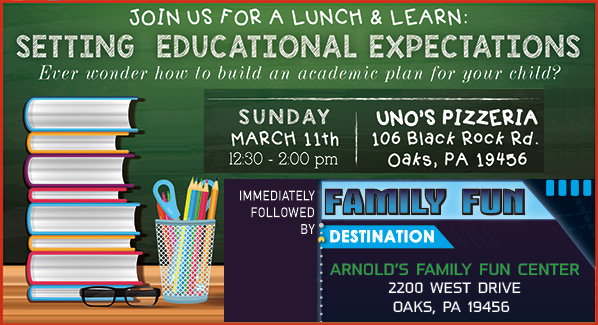 We'll explore the world of education for a child with a bleeding disorder, including the impact of setting expectations at home and having a proactive relationship with your child's school. Recognizing that we may experience guilt, social obstacles, and absenteeism, we'll discuss ways to help establish clear goals, positive routines, Individualized Health Care Plans, and a cycle of responsibility and self-advocacy.
Date: Sunday, Mach 11, 2018
Time: 12:30-2pm Lunch & Learn
Uno's Pizzeria, 106 Black Rock Road,Oaks, PA 19456
Immediately followed by: Family Fun
Arnold's Family Fun Center, 2200 West Drive, Oaks, PA 19456

This is a FREE event, but you must RSVP and reserve you spot.

RSVP: GAIL VANNICOLA
GVANNICOLA@VERIZON.NET
OR 302.598.4632
Thank you to our sponsors.